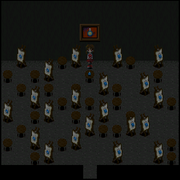 The 
Stool Room
 is a room in the 
Gray Area
 in the game 
Ib
. It is a room filled with movable stools and pictures of
eyedrops
. 
Ib
 must solve the maze of stools in order to get to the Eyedrops. Both the left and right routes can lead her to the Eyedrops; however, the right route will also bring her to the Eyedrops Painting. Observing it will add it to the 
True Guertena Exhibit
.
Ad blocker interference detected!
Wikia is a free-to-use site that makes money from advertising. We have a modified experience for viewers using ad blockers

Wikia is not accessible if you've made further modifications. Remove the custom ad blocker rule(s) and the page will load as expected.