| | |
| --- | --- |
| | The following article is currently a work in progress and is being improved for the benefit of all visitors. Pages carrying this template may contain issues which will be fixed as soon as an editor is available to do so. Please wait patiently for this article to be fixed or help out by contributing. |
"
It's a very pleasant piece. If only Guertena had just painted things like this...
"

— Garry
Overfilled Night Sky is one of Guertena's paintings located in the Orange Area of the Dungeon in the game Ib. It depicts stars against an indigo sky, surrounded by a brown frame. This painting only appears when it turns to night in the Dungeon. It replaces Beyond Halcyon Skies. The stars of the painting can be collected to feed to the white ant, who will reward Ib and Garry with the Orange Key.
In the Orange Area, the painting appears in Mistake's room, on the right of the northern hallway. It only appears when the area changes to night, replacing Beyond Halcyon Skies.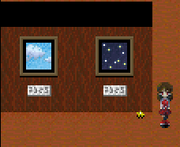 In the
True Guertena Exhibit
, the painting is on the east side of the Orange Room, next to Halcyon Skies. Its stardust piece is on the floor beside it.