| | |
| --- | --- |
| | The following article is currently a work in progress and is being improved for the benefit of all visitors. Pages carrying this template may contain issues which will be fixed as soon as an editor is available to do so. Please wait patiently for this article to be fixed or help out by contributing. |
"
Maybe it can't come directly after us because it can't see?
"

— Garry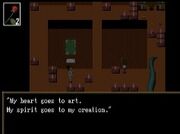 Mistake is one of Guertena's paintings located in the Orange Area of the Dungeon in the game Ib. Once broken out of his painting, he will move sporadically and unpredictably around the room. Making physical contact with him will cause Ib to lose one petal.
Mistake makes two appearances during Ib's adventure through the extra dungeon. The first encounter occurs when Ib frees the butterfly from the wall. The second encounter occurs when Ib chooses to either stare down or jump through the hole of the Birth of the Copernicus Revolution, which causes Mistake to break out of his painting and push Ib down the hole. He will then fall down the hole himself and walk around the room where Ib lands in. When Ib leaves the room, Mistake will follow her out and walk around aimlessly.
Appearance

Mistake appears to be a man with brown hair and a scribbled-over face. He wears seemingly ragged white clothes and no shoes. His canvas has a green background and an orange frame. It is unknown whether or not
Guertena
intentionally scribbled over his face.
Ad blocker interference detected!
Wikia is a free-to-use site that makes money from advertising. We have a modified experience for viewers using ad blockers

Wikia is not accessible if you've made further modifications. Remove the custom ad blocker rule(s) and the page will load as expected.