"
A young girl named Ib visits an art gallery with her parents.

While observing the many exhibits, she suddenly realizes she is alone. And in her search for others, she finds things awry in the gallery...

"

— Kouri
Were you looking for the character Ib?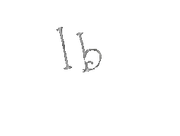 Ib is a horror game made by Kouri in 2012. It consists of a 9 year old girl who arrived at the Art Gallery of Guertena with her parents for the very first time. When Ib's parents are at the reception, Ib was allowed to wander off around the art gallery.
The story of Ib is about a nine year old girl named Ib arrives at the Art Gallery of Guertena. When they arrive, Ib asks to wander off on her own aimlessly around the Art Gallery. When Ib arrives at a painting called Fabricated World, to Ib it's ??? World, the lights start to flicker.
Everyone soon leaves and Ib finds herself all alone.
There are a number of pick ups found around the Fabricated World.
Interactive Objects
Edit
There are a few interactive objects hidden around The Art Gallery of Guertena.
Headless Statue - Garry is needed to push this.
Stool - The Stool is needed to be pushed in order to get the Eyedrop.
Table - The Table, which contains the Red Rose, is needed to be pushed to enter a door.
There are a few different endings in Ib.
Main article: Endings