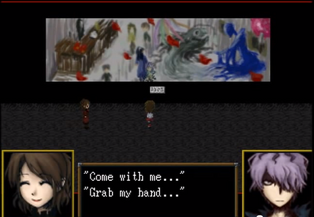 Fake Mother is an enemy in the game Ib. She is a hallucination of Ib's mother.
Fake Mother appears at the end of the game when Garry and Ib have found the Fabricated World painting. She will walk up to Ib, telling her not to go with strangers and claiming that her father is waiting for her deeper in the cursed gallery. Ib will have the option to either go with Fake Mother or to grab Garry's hand and go with him instead.
If Ib chooses to go with Fake Mother, Ib will begin walking towards her and Fake Mother will disappear. Ib will then continue walking, appearing to be in a trance as she exits the screen. This results in an Ib All Alone ending. If Ib chooses to grab Garry's hand, Ib will end up back in the real gallery. If Ib was able to give her handkerchief to Garry, this will result in the Promise of Reunion ending. If not, this will result in the Memory's Crannies ending.
If both Garry and Mary have died when Ib reaches the Fabricated World painting, Fake Mother will not appear. Instead, a Fake Garry will appear, telling Ib to go with him.
Trivia
Ad blocker interference detected!
Wikia is a free-to-use site that makes money from advertising. We have a modified experience for viewers using ad blockers

Wikia is not accessible if you've made further modifications. Remove the custom ad blocker rule(s) and the page will load as expected.