| | |
| --- | --- |
| | The following article is currently a work in progress and is being improved for the benefit of all visitors. Pages carrying this template may contain issues which will be fixed as soon as an editor is available to do so. Please wait patiently for this article to be fixed or help out by contributing. |

Black Roses
are malicious
roses
found within the
Dungeon
of the
Fabricated World
in the game
Ib
. They are a form of life force for certain artworks and traps. There are two Black Roses located within the Dungeon.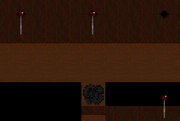 The first Black Rose is seen in the Orange Area, in the northern part of the room where Mistake is found. Large needles will be shooting out from the back wall of the zigzagging hallway, but when Ib steps on the Black Rose at the end and destroys it, they will cease.
The second Black Rose is in the Cyan Area, in the Cactus Terrace. It bears the life force of the Mayhem of Color painting, which will try to chase Ib or Garry as either one attempts to brave the maze. If either one steps on the Black Rose at the end (it is behind a piece of Guertena's painting), the Mayhem of Color will vanish.