| | |
| --- | --- |
| | The following article is currently a work in progress and is being improved for the benefit of all visitors. Pages carrying this template may contain issues which will be fixed as soon as an editor is available to do so. Please wait patiently for this article to be fixed or help out by contributing. |

Birth of the Copernicus Revolution is one of Guertena's sculptures located in the Cyan Area of the Dungeon in the game Ib. It consists of a large hole in the ground; the hole acts as an entrance to a large drop, in which there are multiple structures or images of various planets.
In the cursed gallery, Ib and Garry are pushed into the hole of the sculpture by Mistake, which snuck up on them. This causes them to fall into the room containing the Jewel Box of Temptation, resulting in the loss of one of Ib's rose petals due to the impact of the fall, and Ib is knocked out shortly, worrying Garry.
When falling down the hole, the player will see several planet-like celestial bodies. The player must pay attention to these, as the room below will ask which of those celestial bodies did not appear within the sculpture. Ib will lose one petal every time she falls in, but will receive no damage when she has only one petal left.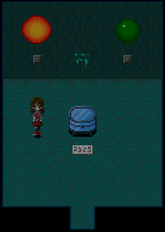 In the True Guertena Exhibit, Ib can fall down the hole countless times without harm. Also the celestial bodies that did not appear within the hole the first time make an appearance in the True Exhibit.